Learn Martial Arts Online Today
Get access now with a 5 day trial for only £1
Whether you are looking to learn superb Martial Arts skills online, emotional stability, enhanced mental well-being, spiritual growth or improved physical energy, this is the program for you.
Once your 5 day trial is complete, you can continue to access all elements of Kung Fu Living for only £9.95 per month.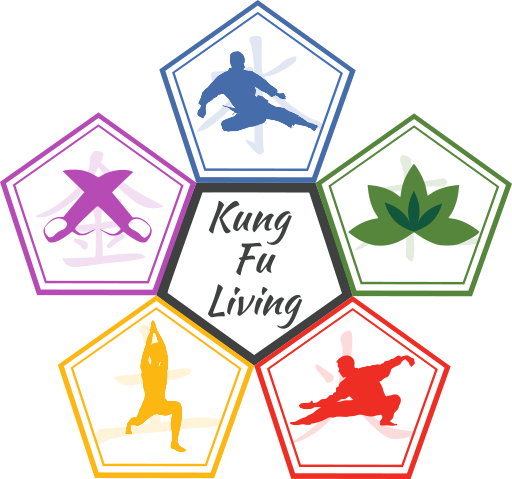 What is Kung Fu Living?
Kung Fu Living is the best structured and accessible way to learn Martial Arts online. This curriculum has been developed by professional teachers and martial artists with over 60 years of experience & training in the dojo, in tournaments and in the security industry. This online training enables beginners and existing martial artist to easily and quickly learn Kung Fu and reach their full potential. Learning the Tao Te Kung Fu martial art style with Kung Fu Living via our step by step daily guide is the most complete and easily accessible means of personal development for everyone whether your primary focus is self-defence, wisdom teachings & meditation or physical health. So whether you are looking to become a Martial Arts master, learn how to train with weapons, enhanced mental well-being, developing your self-defence and countering skills, spiritual growth or improved physical energy, this is the KungFu training for you.
Learn Martial Arts Online – fit, strong, flexible, balanced, calm, confident, self-assured.
You will be guided through 5 types of activity, not just Kung-Fu (wushu) and weapons training, every day.
You will also get 3 types of exercise that you can do with no equipment, for balance, flexibility and strength. These exercises are progressive and guide you by small steps towards excellence.
Wisdom teaching is broken down into daily, single topic videos that will help you grow in critical thinking and understanding of how you can best live in this world.
Guided meditations will enable you to develop your emotional control and give you the tools of personal character development.
The Chi Kung or qigong is used by many to enhance life energy and strengthen your immune system.
Structured Daily Goals
Taking the first step couldn't be easier.
Each day when you open the app, you will see a list of training activities. The activities will guide you through the elements of Tao Te Kung Fu that together will enable you to grow and progress. As each activity is completed your progress is recorded.
You will have access to over 1000 videos, making up the most comprehensive Martial Arts curriculum available online.
You will be guided through 5 types of activity every day. The whole program can be completed in 130 days, but you can set your own pace, taking as long as you wish.
During the 30 day Foundation (basic) level you will work through three 10-day modules, learning your basic but essential skills in the 5 elements of the system.
The 50 day Intermediate level you will work through five 10-day modules. The wisdom and meditations are focused on the next level of discovering and recreating yourself in an image you choose.  You will learn dual weapons and more complex Kung Fu techniques and combinations.
The 50 day Advanced level takes you through the most advanced forms and weapons.  In this level you will learn five Chi Kung brocades, one for each of the elements that will enhance your Kung Fu.  Here you will learn the master principles of Eastern Philosophy.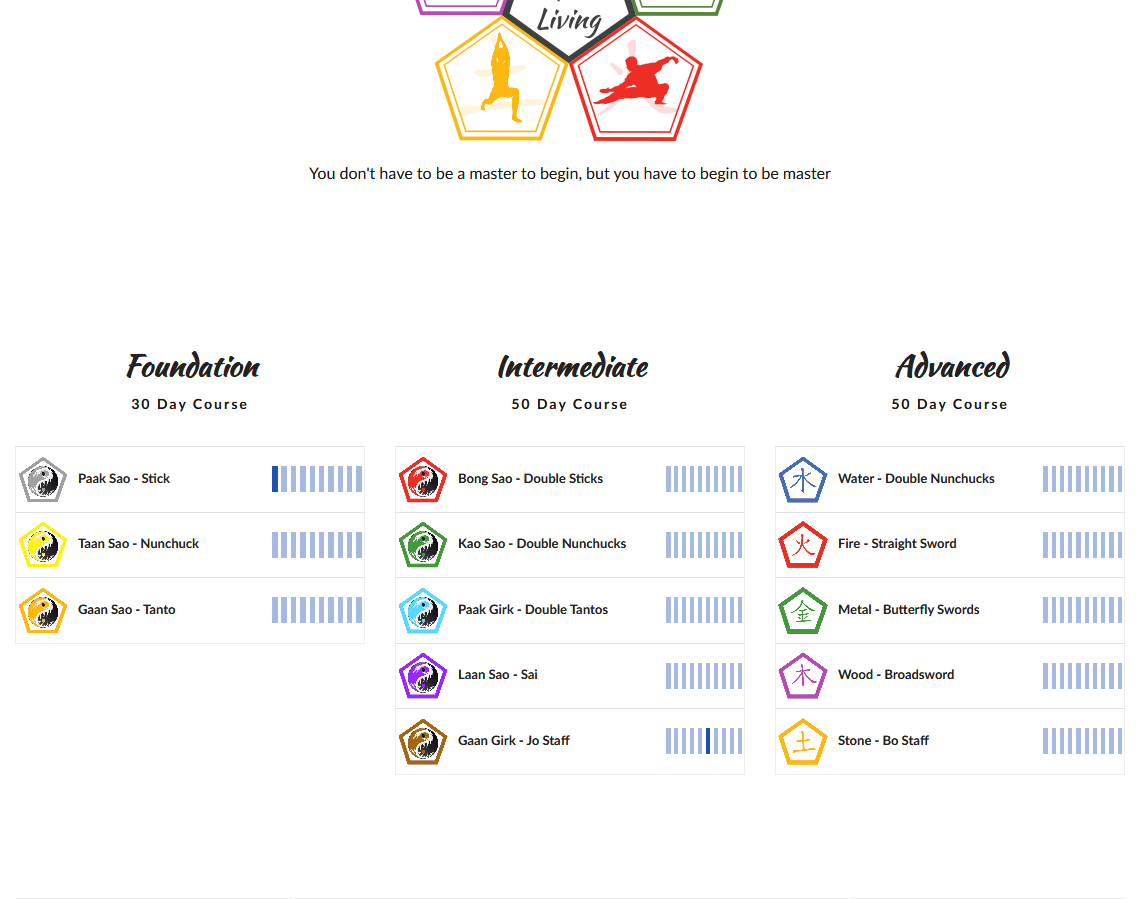 Learn Kung Fu
Each day you will have up to 6 videos in unarmed combat training.  In each 10 day module, you will learn a new Kung Fu form. A form (sometimes called a pattern or Kata) is a choreographed set of techniques enabling you to learn each technique within the context of others.
You will learn each technique the way it will actually be performed in a real combat situation. Each technique is broken down and explained in detail and then put back together giving you the ability to perform complex movements unconsciously so that these skills will be available to you even in the highly tense situation of a real fight.
Previously viewed videos will always be accessible to you if you want to revisit them. Some videos are on a loop (repeat drills) so that you can repeat them until you can do them without thinking.  All this makes the Kung Fu Living program the quickest and easiest way to learn martial arts online.
Train with Weapons
You will learn a multitude of weapons, all of which have been chosen and developed to enhance your unarmed combat in various ways.
In foundation you will learn: Stick, Tanto and Nunchuck.
In intermediate you will learn: Double Sticks, Double Tantos, Double Nunchucks, Sai and Jo Staff.
In advanced you will learn: Chinese Broadsword, Chinese Straight Sword, Bo Staff, Butterfly Swords and an advanced Double Nunchuck form.
The culmination of skills from learning so many weapons will also enable you to improvise; using almost any object to hand as an effective weapon.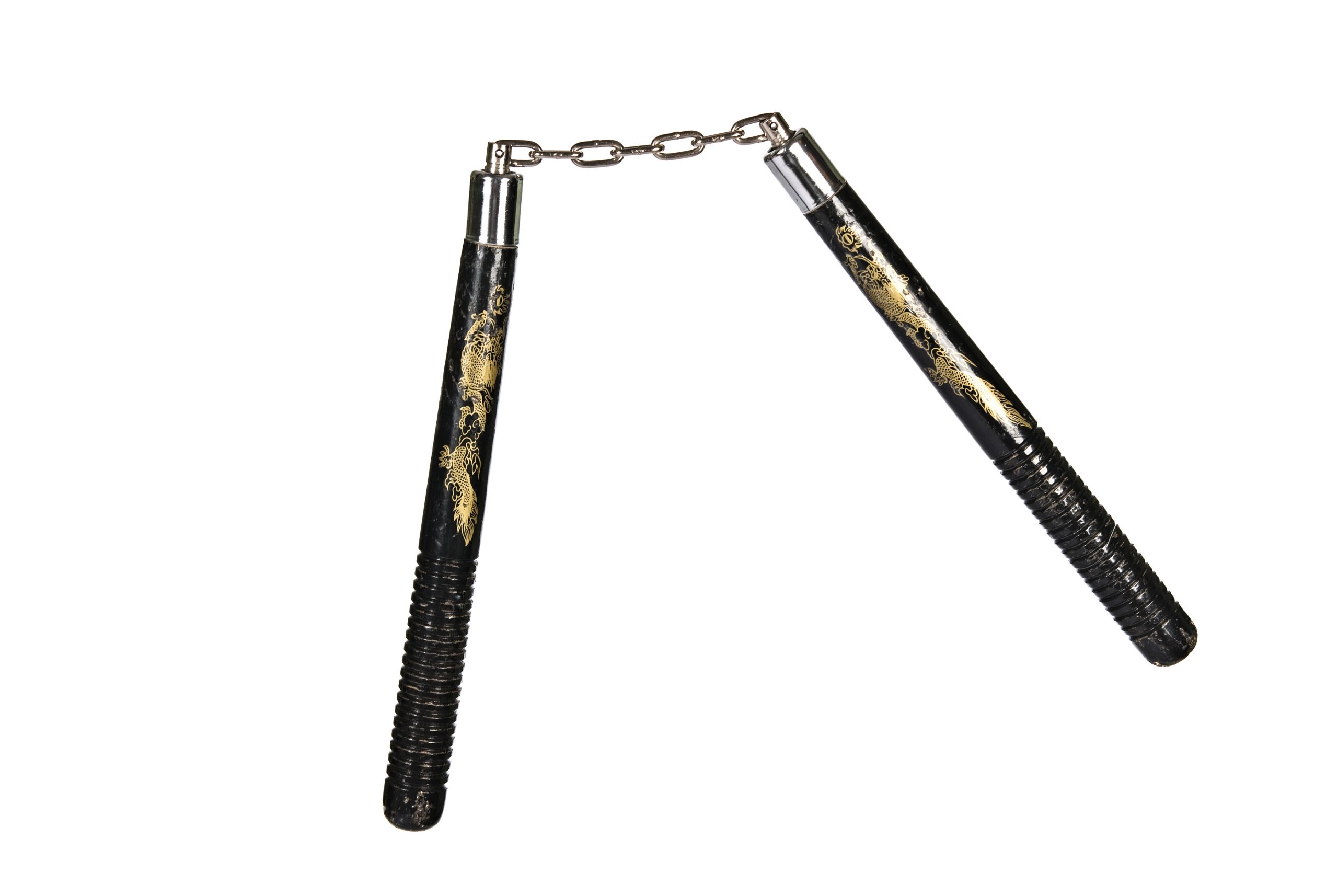 Grow in Wisdom
Designed to encourage deeper philosophical thinking, these daily contemplations are intended to be listened to and then considered throughout your day.  They begin with relatively straightforward, though largely ignored, concepts.
You will be shown the tools to know yourself better and change those aspects that you would like to improve, even as far as recreating yourself.  This isn't just intellectual ideas, but consists of some of the most profound and life-changing wisdom.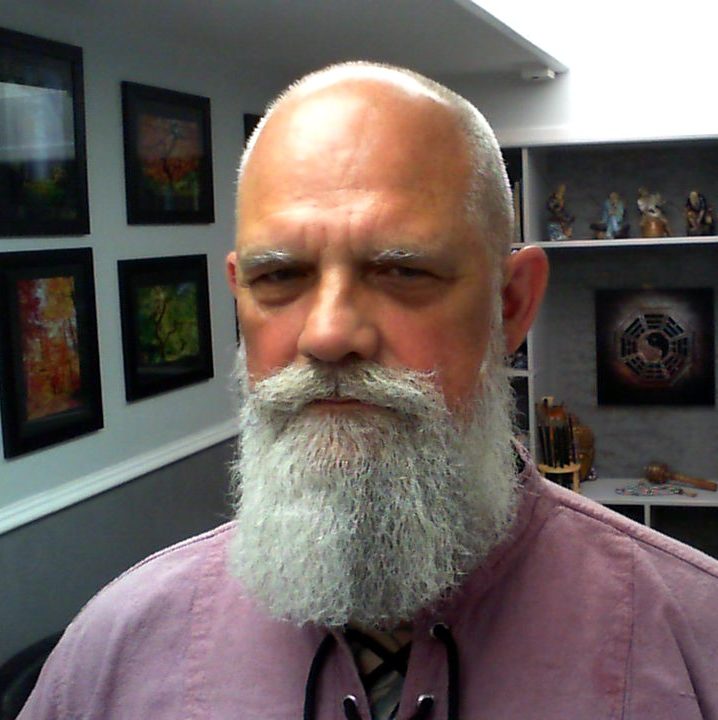 Enhance energy with Chi Kung
Chi Kung has been practiced for thousands of years, but for many years, only in the palaces of emperors, Buddhist monasteries and Taoist hermitages.
Chi Kung has been considered as the ultimate preventative medicine.  It is believed to, not only, protect health, but also promote vitality and prolong life while cultivating spiritual awareness and insight.
While there is clinical evidence that practicing Chi Kung strengthens the immune system significantly, most practitioners would simply say that they feel the benefit of daily Chi Kung exercise in terms of enhanced energy in one form or another.  Some people say they feel more alive, some would argue they feel calmer, but all would recommend the benefits of this moving meditation that improves one's coordination by linking controlled breath with mindful movement.  It literally has to be tried to discover its many benefits.
Over the course of the Kung Fu Living program, you will progress from a relatively simple, though no less effective, Chi Kung Brocade (called Brocade because traditional Chinese Brocade has 8 threads and the Chi Kung sets that you will learn all have 8 movements) through the Intermediate and somewhat more challenging brocade to 5 different sets that you will learn in Advanced, each associated with a different element.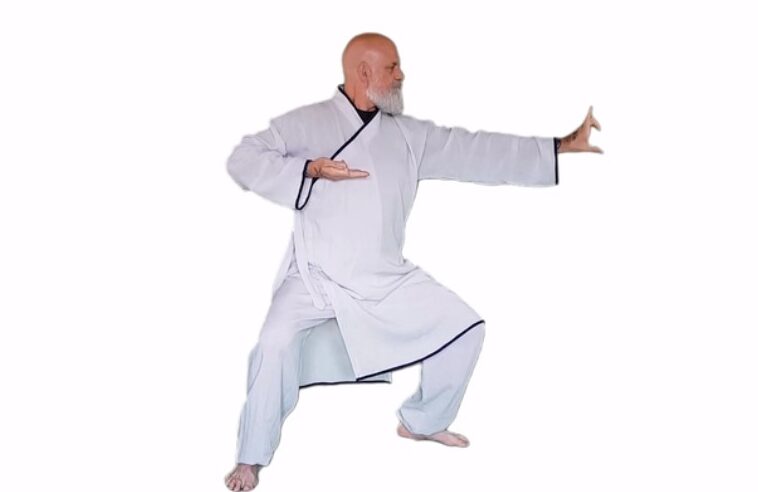 Train with a structured exercise regime
With our exercise and conditioning program, no matter where you're starting from, you will make sustained progress throughout.  The program is designed to increase your flexibility, balance & coordination and overall physical strength.
Every day you will be presented with 3 different categories of exercise.
The strength exercises are chosen to increase functional strength, not only for your martial arts, but also to ensure you enjoy enhanced physical abilities for the rest of your life.
While flexibility is limited by your particular genetic makeup, you should aim to maximize your potential.  A Yoga instructor will guide you through each exercise to ensure perfect technique and position.
You will progress with a series of different controlled poses to improve your overall balance, coordination and spatial awareness, and the strength of multiple tiny muscles that constantly adjust to hold these poses.
These structured, progressive exercises will, not only, improve your Kung Fu, but also the fluidity and elegance with which you perform even the simplest of everyday activities.
Grow with guided Meditations
Meditation, while practiced in some cultures for thousands of years, has recently become increasingly popular all around the world.  With literally tens of thousands of in-depth studies being done in universities, researchers from many academic fields have demonstrated it's many benefits.  The list of major benefits to mental, emotional and physical health keeps getting longer.
The Kung Fu Living meditations are aimed at making meditation easier.  Whether you are looking for improved mental health, emotional well-being, better self-awareness, spiritual enlightenment, freedom from stress and it's related illnesses or simply develop greater cognitive focus and clarity, you will find it here.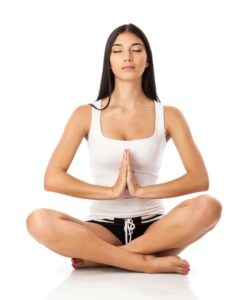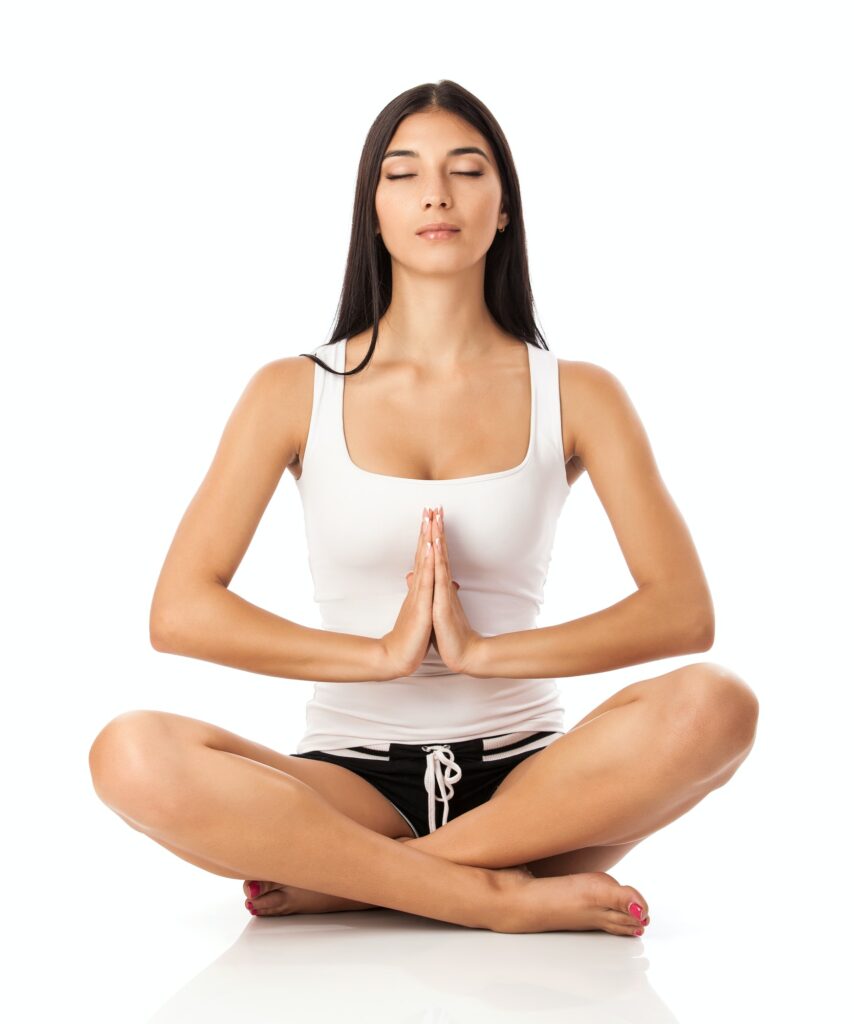 Sifu Mark Ringer – BA Hons (phil/pol) PGCE
Mark began his Martial Arts training as a teenager, becoming a regional boxing champion before moving on to train in Kyokushin Karate and then Tai Kwon Do.
Working as a licensed doorman helped see him through his honours degree in philosophy. After twelve years of working pubs and clubs as a head doorman and running his own security company, he was able to develop and test the most effective control techniques incorporating many concepts from the Northern Chinese Kung Fu style of Kempo which he was studying during this period. He was fortunate to train in restraint techniques under the highest ranking Ju Jitsu instructor at the time and have one to one training with an expert in Chin-Na (seize and control techniques).
After being a manager and consultant for international private security firms, in 1999 Mark took a change of career direction to become a high school Head of department for Philosophy and Ethics & Religious Education for 10 years, becoming a specialist in both ancient and modern eastern philosophy. Another change of direction was to train in the Southern Chinese Kung Fu style of Wing Chun where his instructor was an enthusiastic young Sifu. William Bridgman.
As a certified practitioner of Neuro Linguistic Programming and Hypno Therapy he is able to help people develop their psychological strengths and he is one of the few professionally qualified and experienced teachers working full time in martial arts.
Mark has a wealth of experience in the martial arts; developed in the dojo, tested in competition and practiced in real life. He has a great depth of understanding in the philosophical and spiritual aspects of Kung Fu and as a true master is uniquely able to pass on the rich complexities of these ancient arts.
He was so impressed with William's energy and passion that they founded a Kung Fu academy that has run for over a decade and successfully trained over 1000 students.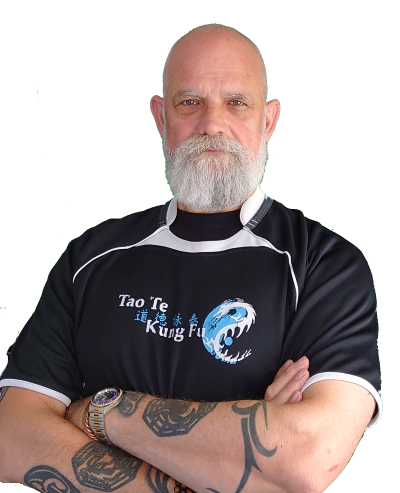 Sifu William Bridgman
Will started training in Kung Fu when he was a teenager. He soon fell in love with the art and knew that he would dedicate his life to discovering the limits of his potential. He started training in an accelerated Black Belt program training for hours almost every day. Here he learned advanced Kung Fu techniques including unarmed combat, weapons training, grappling and ground fighting and has sampled a huge array of the world's martial arts.
He has trained with some of the world's highest profile Masters. These include European Kung Fu masters, world famous weapons masters, UFC competitors and traditional teachers from the far east.
While intensively training, Will discovered that although he loved progressing his own skills as a martial artist, he found a passion for helping others achieve their potential in Kung Fu. As a result his entire career since school has been as a full time martial artist and instructor.
After 4 years of training and instructing, at the age of nineteen, Will earned his Black Belt in Wing Chun Kung Fu. As well as continuing to train his body and mind in different arts he met Sifu Mark Ringer, who was one of the few people who shared his goal of giving Norwich a place where people could expand their horizons physically and mentally in the way he had through Kung Fu.
Because Kung Fu is about mastery of the whole of ones life, Will realised that one of the most helpful contributions he could make to the lives of his students was to be sure he could advise them on a healthy disciplined life. He therefore trained and qualified as a nutrition and diet advisor specializing in health and long term weight management.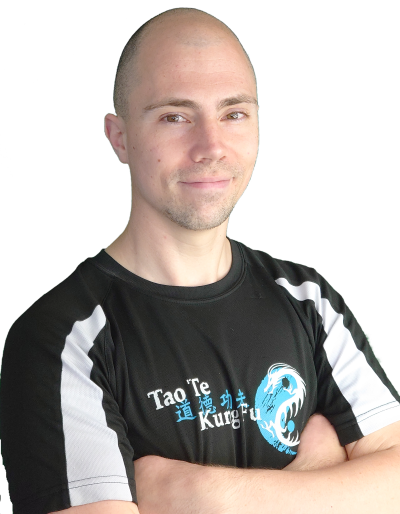 Student Reviews
Don't just take our word, we have helped over a 1000 students
Since i have been unable to attend classes, the structure of each day has been brilliant
Rob
I love the way it is set out. You just take these little steps every day and you can actually see the progress you're making. I now structure the rest of my day around the different bits. Love it.
Naomi
I can't believe how easy it is. Each individual thing you learn is really easy to pick up, but when you look back, you realise that you've developed these great skills.
Mikki
I've done a few martial arts over the years and here is all the stuff I've been missing.
James
Start today – Learn Martial Arts online with us
It is our belief that training with this program is one of the finest ways to take control of your overall personal development.  Every day is structured to ensure you benefit from the very best step by step progress.
This program has been a collaboration of professional expertise answering 3 questions:
In an ideal world, if you could be apprenticed to a Kung Fu Master, what would you be taught?
From the latest understanding of the neuroscience of teaching, what is the best way to learn that knowledge and those skills?
If you can't train one on one, what is the best way to use modern Information Technology to deliver this great body of knowledge and skills?
You don't have to be a master to begin but you do have to begin to become a master
Learn martial arts online for £1
Try today